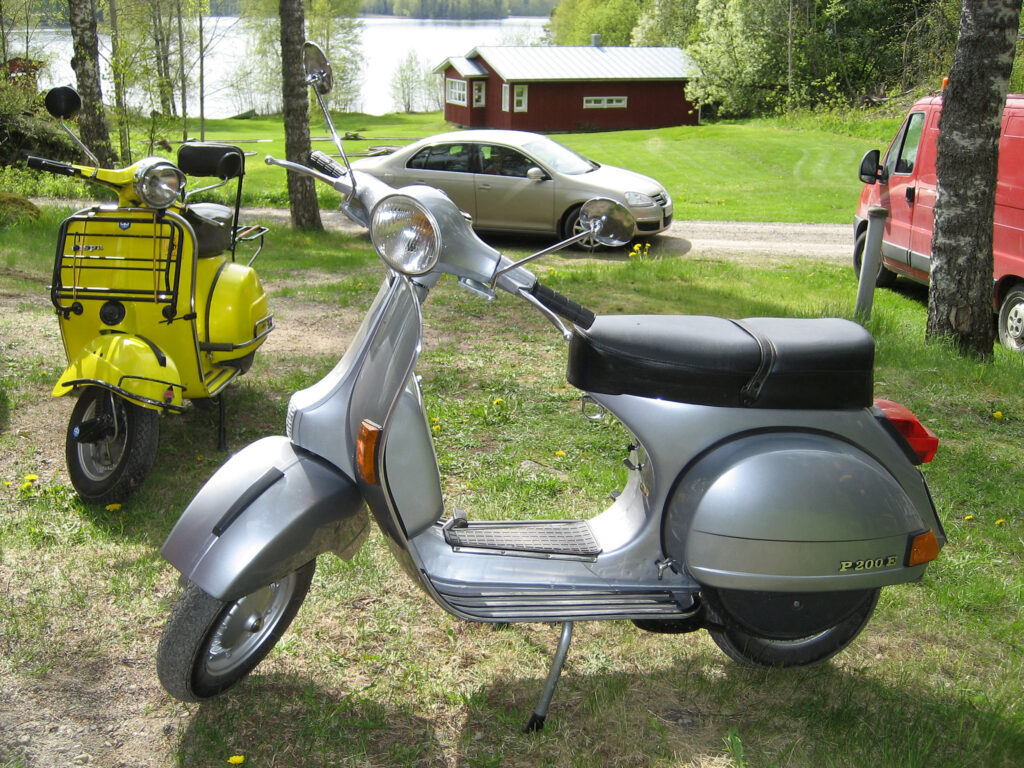 The Vespa P200E scooter is the workhorse of the Vespa line and often called the Toyota Camry of Vespas. It doesn't have the styling of the older Vespas but, it is without any question the most reliable and easiest to work on Vespa.
Engine and Performance
Equipped with a 200cc two-stroke engine, the Vespa P200E delivers a balance of power and efficiency. Its responsive acceleration and smooth power delivery make city commuting a breeze, while it retains enough oomph to handle open roads with confidence. The engine's distinct two-stroke sound adds to the nostalgic experience, reminding riders of the scooter's iconic heritage.
Ride Quality and Handling
The P200E's lightweight frame, combined with its compact dimensions, contributes to nimble handling and maneuverability. The telescopic front suspension and rear shock absorbers provide a comfortable and stable ride even on less-than-ideal road surfaces. The scooter's low center of gravity enhances its stability, making it an ideal choice for urban navigation.
Fuel Efficiency
One of the standout features of the P200E is its fuel efficiency. The two-stroke engine design, coupled with Vespa's engineering expertise, ensures that the scooter delivers impressive mileage, making it a cost-effective and eco-friendly choice for urban mobility.
Maintenance and Reliability
Vespa has earned a reputation for producing durable and reliable scooters, and the P200E is no exception. Its robust construction and dependable mechanics result in a scooter that requires minimal maintenance, allowing riders to enjoy miles of hassle-free riding.
Conclusion
The Vespa P200E scooter embodies the spirit of Vespa's enduring legacy while integrating modern technology and performance. Its timeless design, responsive engine, and comfortable ride quality create an experience that resonates with riders who appreciate classic aesthetics and reliable functionality. As a symbol of sophistication, practicality, and nostalgic charm, the Vespa P200E continues to capture the hearts of scooter enthusiasts who value both style and substance in their two-wheeled companions.
The fact that the Vespa p200 shares the same body and many of the same engine components as the Genuine Stella. there are an abundance of  accessories an engine parts that are interchangeable making it an ideal scooter for anyone
View the whole specs HERE
Any comments Contact Me